I may be new to all of this, but I have come up with a few tips that I want to share with you...
When you comment on a post, it is helpful to leave a link to your blog. That way the blogger can refer back to your blog if he/she would like check you out.
If you are leaving a link to your blog, do so as a hyperlink. It makes it easier for everyone involved to get to your site. If I have to copy and paste and I'm in a rush, I may not take the time to visit your blog. (But I would NEVER do that! :))
I have discovered that there are WAY too many "profiles" on Blogger. I have one for google, one for my blog, one for Google Friend Connect, etc. Make sure a link to your blog is available on ALL OF THEM! As I said, I am new to all of this blogging. I have 8 WONDERFUL followers so far. When I click on their picture, it gives me their name as well as the blogs that they follow. Only some people have their own blogs listed here. If it's not listed and I can't remember where you are from, I CAN'T VISIT YOUR BLOG!!! That's simply not fair. If you follow me, I want to follow you as well.

Go to your Blogger Dashboard.
Click on "My Account"
Under "My Products" click "Settings" found next to Blogger.
Under "Show my blogs" make sure YOUR blog is listed and checked.
Now go to a blog where you are a follower. Click on your picture.
At the top should be a link, "settings" -click it.
Underneath your name you can "add links". Add the web address for your blog.
You can also link up this profile with your Blogger profile. I did that too, just to be safe.
Now when you click on your picture, your blog should be listed under "links" before listing the other blogs you follow.
I know that was a lot of information and most of you are probably already aware of these things. But I want to make sure that I can reciprocate all of the generosity out in the blogging world and follow you as well!
Ladybug's Teacher Files
has some great tutorials as well...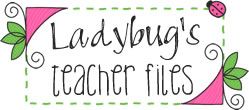 Any other tips or ideas out there? I need all that I can get. :)